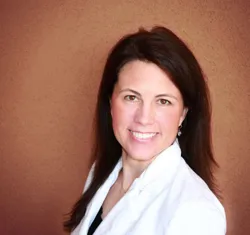 Dr. Michaela Haney Jacobs is a licensed physician and surgeon, a board certified dermatologist and a member of the American Academy of Dermatology, Society of Pediatric Dermatology, and American Society for Dermatologic Surgery. She is also an active member of the New Mexico Dermatologic Society.
She graduated with honors from the University of San Diego, then returned home to attend the University of New Mexico School of Medicine. She graduated first in her medical school class, was honored with the Faculty Excellence award and was inducted into the Alpha Omega Alpha Honor Society as a junior member. Dr. Jacobs completed her Internship in Internal Medicine in 2010 and her Dermatology Residency in 2013. In 2022, she completed her MBA in Healthcare Administration at the University of Colorado.

She specializes in the diagnosis and treatment of skin disorders in patients of all ages, with a particular interest in skin cancer, geriatric dermatology and genodermatoses.
Dr. Jacobs maintains a position as Volunteer Faculty with the UNM Department of Dermatology and School of Medicine. She occasionally has medical students, residents, or physician assistant students spend time with her in clinic to learn about the best specialty in medicine.

Outside of work, Dr. Jacobs enjoys reading, traveling, playing tennis (with sunscreen on), and spending time with her family.