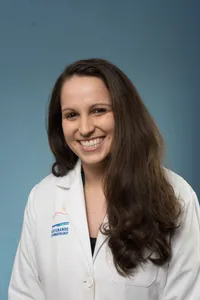 Leigh Higgins is a board certified Physician Assistant who obtained her Master's degree from the University of St. Francis in Albuquerque, New Mexico. Prior to this, Leigh worked as a radiology and fluoroscopy technologist in Durango, Colorado and at the University of New Mexico Hospital. She graduated with honors from Fort Lewis College, in Durango, Colorado with her Bachelors of Science in Cellular and Molecular Biology before furthering her career as a Physician Assistant.
Prior to working in Dermatology, Leigh worked in Burn, Plastic, and Reconstructive Surgery at the University of New Mexico Hospital where she developed a love for surgeries and procedures. Leigh's primary goal is to provide thorough, competent, and personalized care for patients and to ensure that each patient receives the best care possible.
Outside of work, Leigh enjoys spending time with her family, reading, and being outdoors kayaking, hiking, and gardening.